Greetings my menses maidens! When I think of a prisoner's last meal request, I've often wondered if mine would be some sort of carb within a carb, like a turducken, but with starches. What sort of dish would meet those requirements?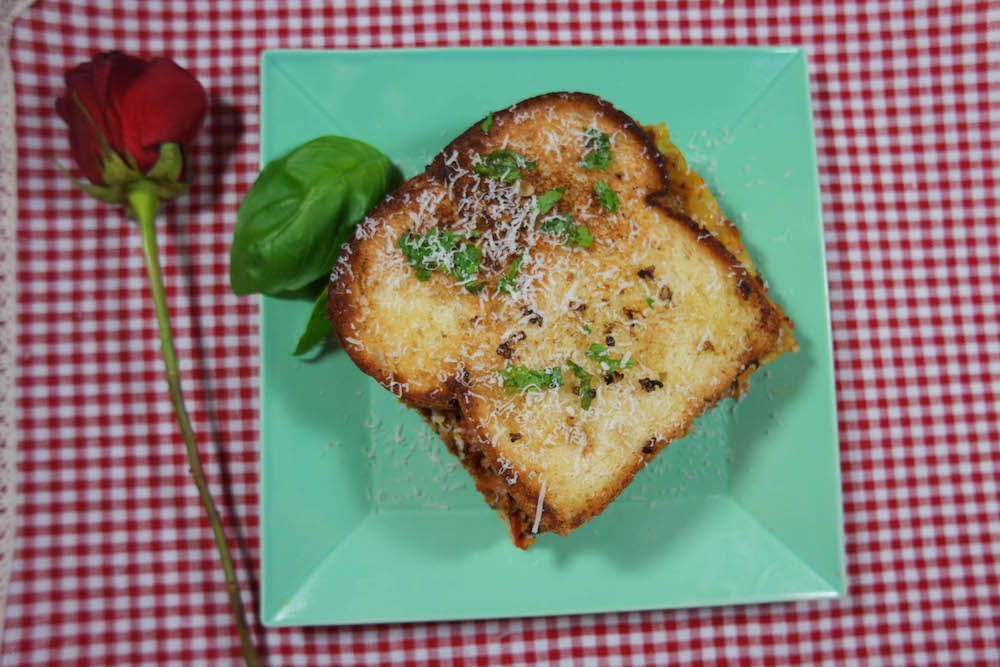 Several years ago, before diabetes and a Dancing With the Stars gig, Queen of Butter, Paula Deen, managed to achieve a most impressive feat: creating one glorious lasagna sandwich. She basically threw a giant piece of lasagna inside of a giant loaf of garlic bread and went to town, daddies.
We'll be doing a slightly classier version of this dish, calling it the "Lasagna Sandwich Carb-Ception." This was inspired by both Paula Deen and Sir Blaque Chris, who I'd always see posting about making lasagna sangwiches for his friends and I'd be like "WHAT?! #FEEDME."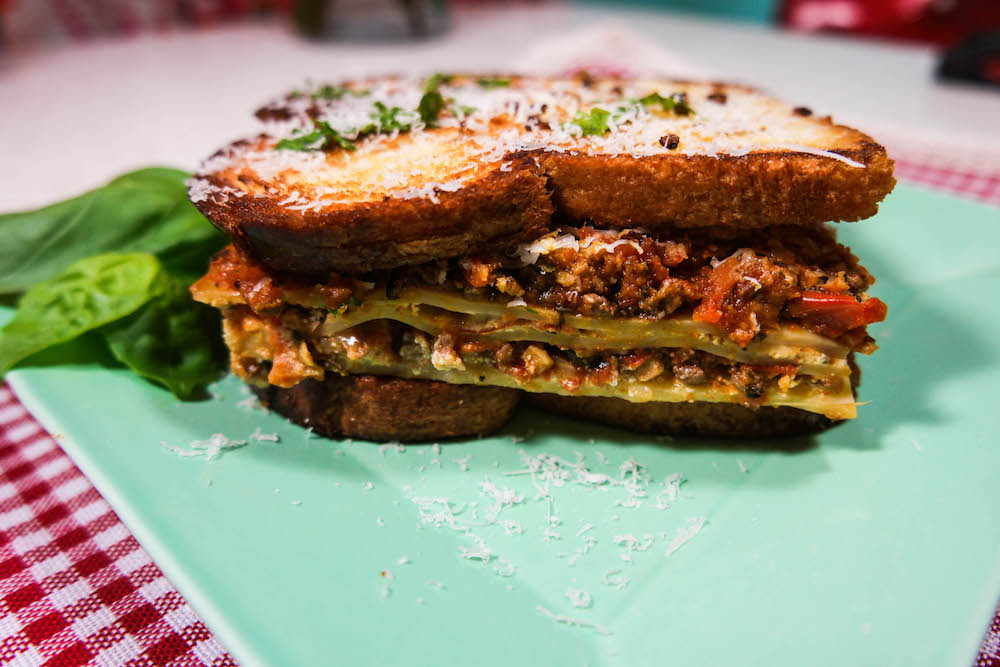 Ooh, as I wrote this, I got my period and a blood stain in the shape of a heart appeared in my panties. I took that as a good omen. Let's get started, shall we?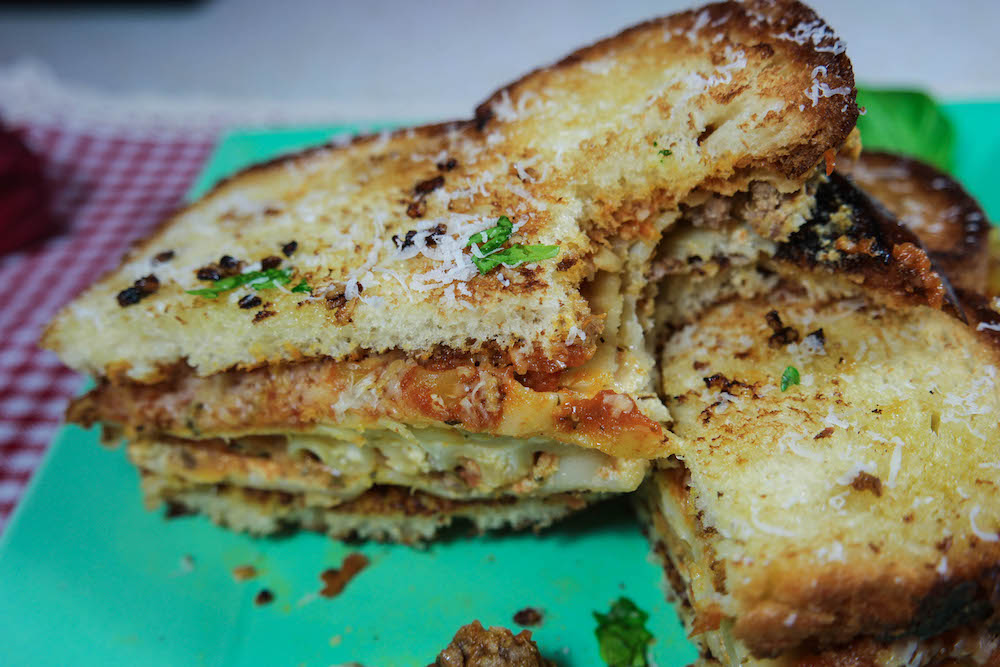 The Lasagna Sandwich: A Carb Within a Carb
2017-10-09 23:17:02
Serves 12
Ingredients
9x13 baking dish
25 oz. container of your favorite pasta sauce because we shall not be fucking around with making a sauce from scratch this time. (I used Mezzetta's Roasted Garlic and Caramelized Onions.)
1/2 lb. ground beef
16 oz. of Ricotta cheese
Shredded mozzarella cheese
Grated parmesan cheese
2 sexy eggs
Extra virgin olive oil
Garlic salt
Garlic powder
Fresh basil
Dried oregano
Black pepper
Medium-sized onion
Sliced brioche bread
Instructions
Preheat oven to 350. Cook lasagna noodles according to directions on box.
Cook ground beef and ¼ cup chopped onion over medium heat until browned. Add garlic salt to taste. I ended up spicing up the sauce by simmering it on low heat and adding 2 tsp. of basil paste, 1 tsp. of dried oregano and ¼ tsp. of black pepper. Add meat to sauce.
In medium bowl, combine Ricotta cheese, 2 eggs, 1 tsp. garlic powder, ¼ tsp. of black pepper, ½ tsp. of salt; mix well.
To assemble: Spread ½ cup tomato sauce in the pan to prevent sticking. Place three strips of lasagna noodles on bottom of pan. Spread ¾ cup of ricotta mixture evenly over noodles, then with ¾ cup of sauce mixture. Top with ¾ cup mozzarella and 1 tbsp. of parmesan. Repeat layering. (This will be thinner than a usual lasagna to prevent going full Deen.) Top with one more layer of lasagna noodles, then spread ¾ cup of sauce over it. Tent foil to prevent sticking and bake for 45 minutes. Remove the foil, sprinkle more mozzarella and parmesan on top, then bake for 5 more minutes to melt cheese. When finished, let it sit for about 15 minutes so it won't be all goopy when we transform it into the most OBSCENE sandwich you've ever eaten.
And now for the garlic bread! Melt a ½ stick of butter with 2 tbsp. of olive oil in microwave. Stir in ½ tsp. garlic powder. Spread evenly on two slices of bread and grill until each side is golden brown.
For optional basil spread: Mix together 2 tbsp. finely-chopped fresh basil (packed down), 3 tbsp. extra virgin olive oil, ⅛ tsp. black pepper, ⅛ tsp. salt, 1 tbsp. grated parmesan cheese. Spread on garlic bread slices.
Cut a slice of lasagna about 6 x 3 ½ inch wide. Place in between bread slices, cut in half and devour that mutha!
BloodFeast https://thebloodfeast.com/