Greetings my gushing goddesses. Yes, it is me. I have risen again like a boner in the mist after finally returning from a long hiatus, which involved traveling throughout Europe for a few weeks followed by TWO nasty illnesses. Soon I shall dish (NPI) on all the delicious things I gorged on during my travels in a post, but first: a recipe to get you all CARB-Y COZY for fall.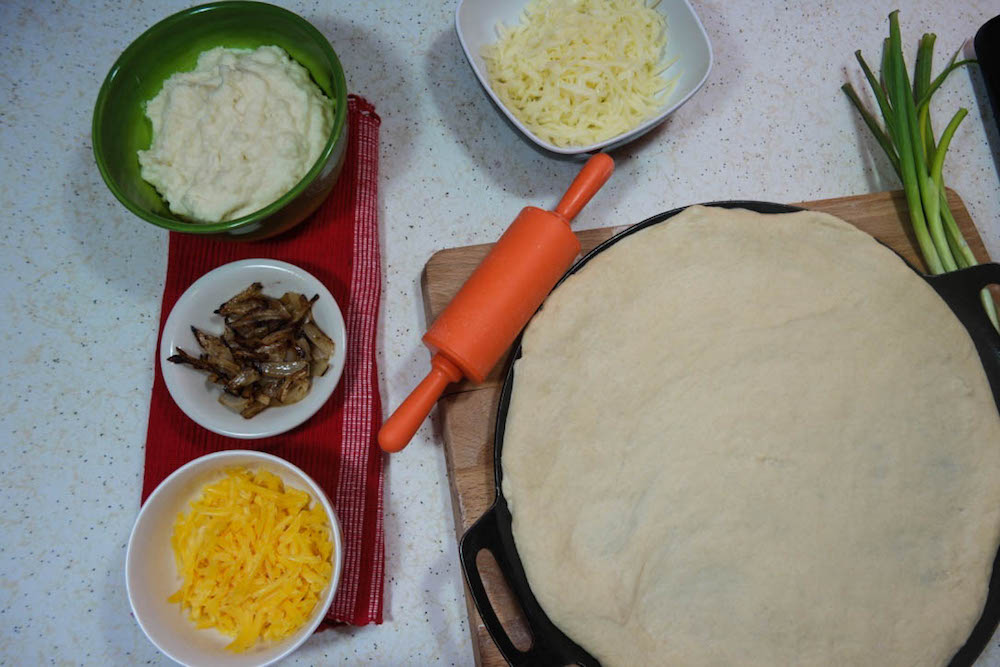 Because I have been ~going steady~ with a nice Canadian gent for a few years now, I have been exposed to the fine cuisine from our friendly neighbors to the North. Yes, I have tried poutine — the first time being at a Guy Fieri-approved diner, while the second time resulted in an Instagram photo mysteriously commented upon by legendary Canadian songstress herself, Alanis Morissette. (How DID you find me, Alanis?)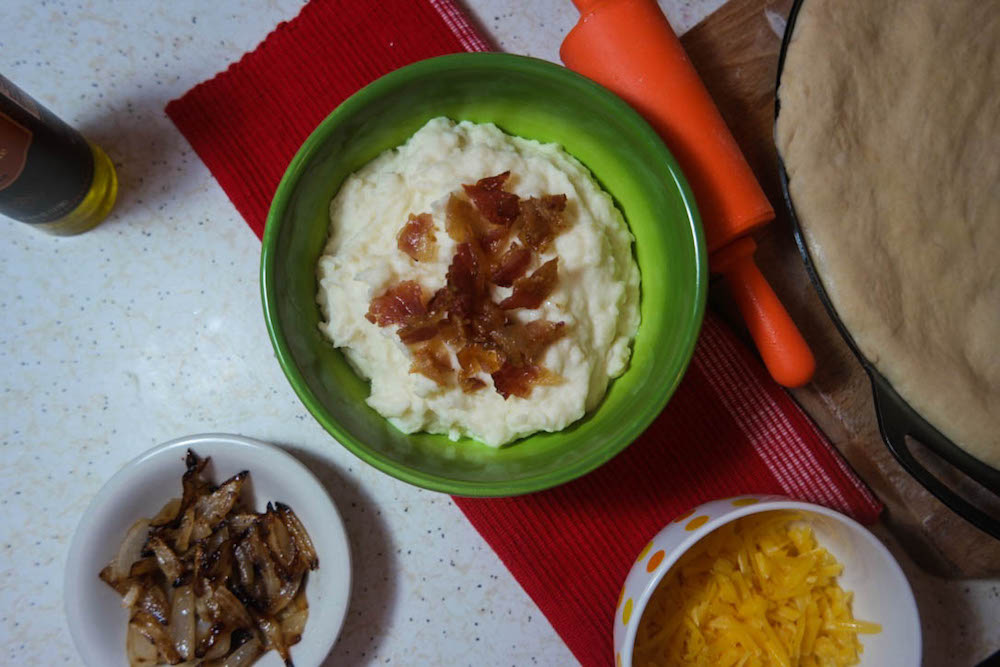 Anyway, my man, knowing that I, like Oprah, never met a potato I didn't like, told me about a special pizza he once had that was inspired by pierogis — aka Polish dumplings filled with potatoes, onion, and cheese.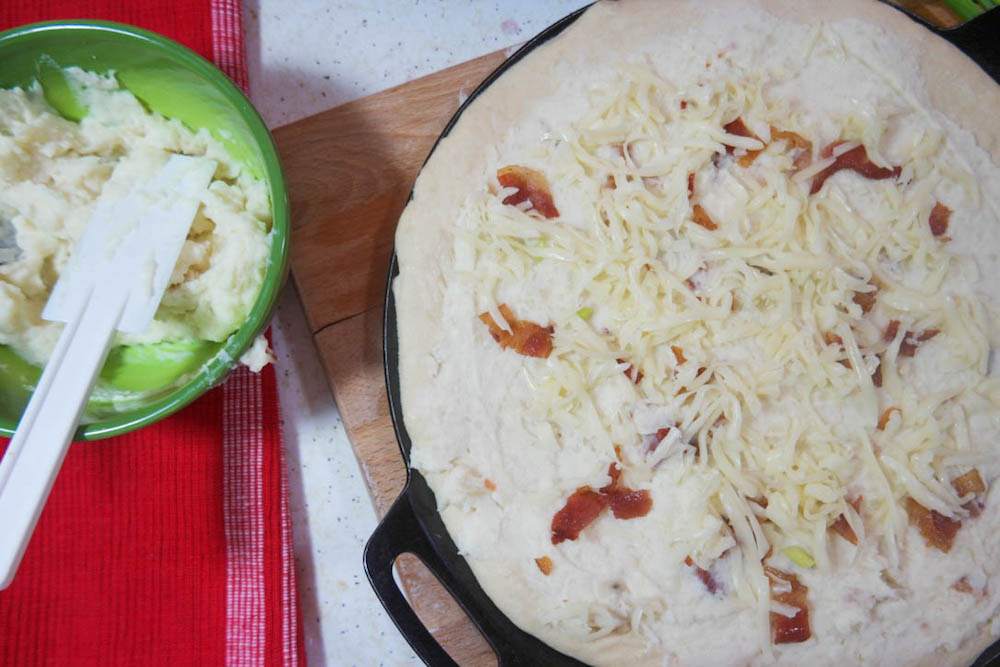 Now, pierogies were not a thang where I grew up so I can't recall ever having them, but in Edmonton where he (and K.D. Lang) is from, there's a large Ukrainian population which means…PIEROGI GALORE. They also have an annual pierogi festival and a 25-foot steel pierogi statue in a nearby town. However, in Canada, they spell it perogy. They also pronounce the letter "Z," as "Zed" (as they do in Britain) which is something I will never not LOL at, much to his dismay. (I'M SAWRE OK JUST CAN'T HELP IT).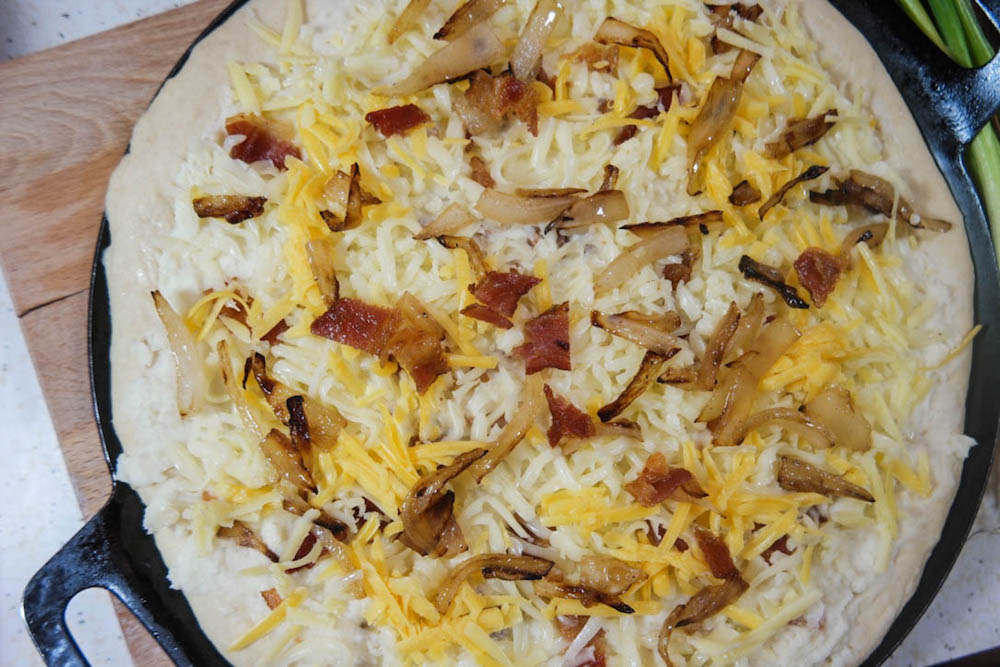 The pizza he had was actually from a popular Canadian pizza chain called Boston Pizza (weird, I know) that has several locations in the U.S. After doing a bit of research, I found that Pittsburgh is also known for having pierogi pizza. I'll keep that in mind if I ever journey there.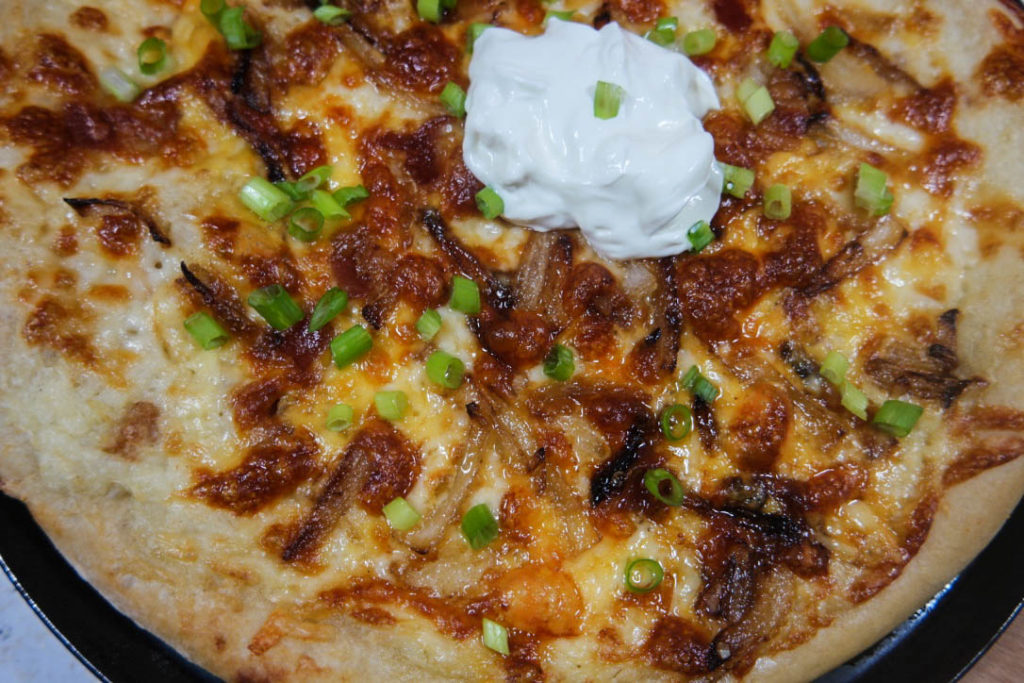 My dude warned that while the pierogi pizza tastes like sweet heaven, it is indeed quite heavy on the gut. I mean, DUH. A pizza made with mashed potatoes? That could put a normal human into a carb coma for WEEKS.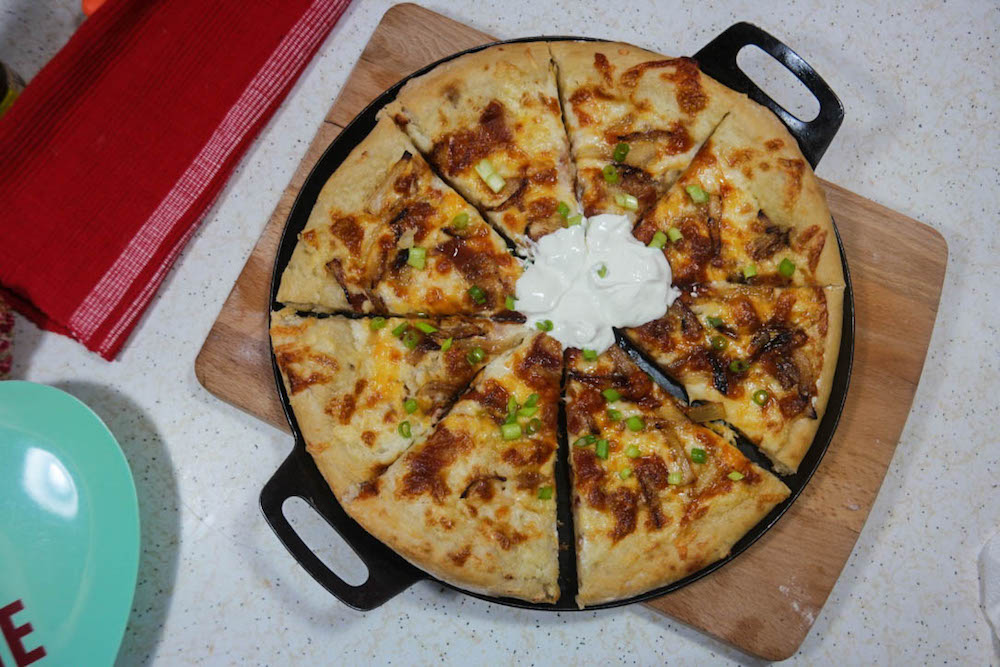 But for us BloodFeasters, that's just CHILD'S PLAY.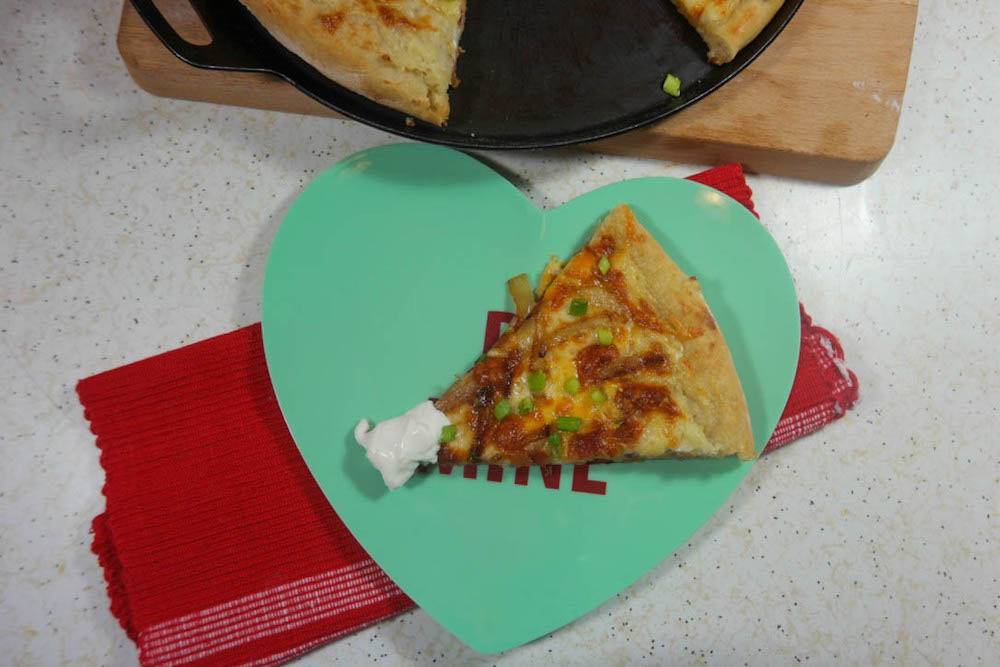 Prepare to meet dual-carb heaven, boo.
Pierogi Pizza
2017-10-08 22:44:20
Serves 4
Ingredients
1 russet potato, peeled and chopped
1 premade pizza crust
1 cup mozzarella cheese
1 1/2 cup cheddar cheese
1/2 onion
Butter
Cream cheese
Salt and pepper
Paprika
Garlic powder
Extra virgin olive oil
Chopped scallions
3-4 slices of cooked bacon
Milk
Sour cream
Instructions
Chop potatoes and boil in water until fork tender. Drain, then transfer to mixing bowl.
Thinly slice onion, then caramelize*.
Mash and mix potatoes with 1 tablespoon butter, 2 tablespoons cream cheese, ¼ milk, a dash of paprika, a dash of garlic powder, and salt and pepper to taste.
Add 1/3 of the chopped bacon to mixture, then save the rest for later.
Stretch pizza dough on a 12-inch pan. Spritz with olive oil then evenly spread mashed potato mixture onto crust with a spatula. Don't feel like you have to use the entire potato mixture unless you want to take a five-hour nap. I ended up using half of the mixture and it was plenty. Cover entire pizza with mozzarella cheese, then sprinkle cheddar cheese and your third optional cheese if applicable. Sprinkle caramelized onions and rest of bacon on top.
Bake for 20-25 minutes or until cheese is nice and bubbly. If you want to brown the bottom of your crust, remove pizza from pan and place it directly for the remaining 5-7 minutes.
Once finished, sprinkle chopped scallions and top with a sensual dollop of sour cream.
BloodFeast https://thebloodfeast.com/