Once I got stoned alone and made the mistake of putting on Alejandro Jodorowsky's surrealist acid trip of a film, Holy Mountain. I had watched it a million times before and didn't think it would be a big deal. If I had some sort of spiritual experience watching it while on the influence of cannabis, that sounded fine! Sadly, that was not the case. When I saw the scene where a perverted old man pops out his fake eyeball and gives it to a young girl, I began to have a full-on freak out. I texted my friend, told him about my dire situation, and he replied, "What if this is how you die?"
My mind camera zoomed in on those words and I heard James Earl Jones' voice echo, "WHAT IF THIS IS HOW YOU DIE." "FUCK YOU!!!!" I texted back.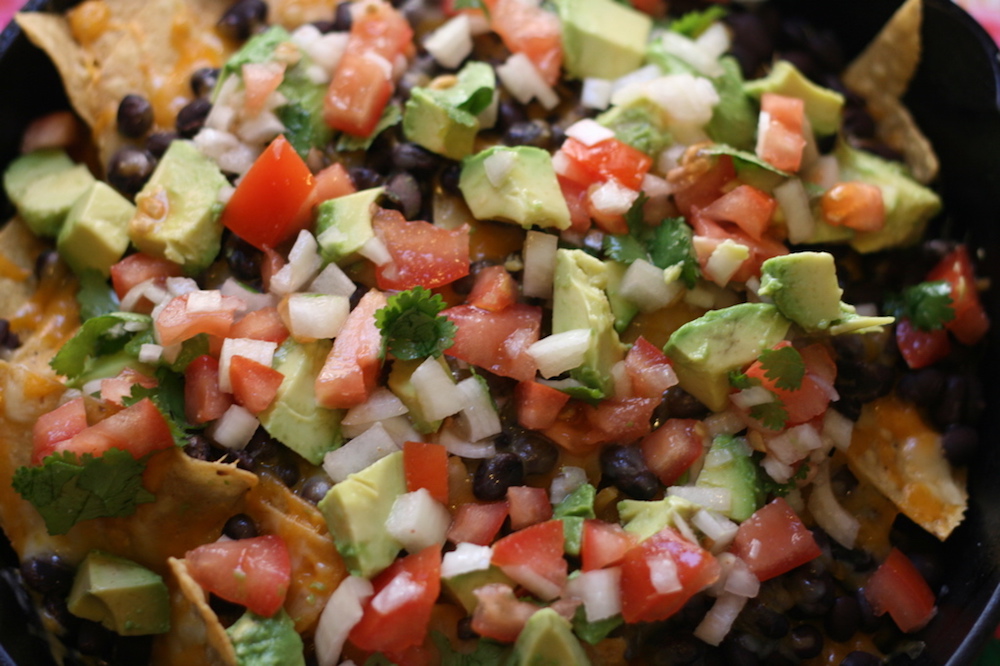 Spoiler alert: me and that dude are about to celebrate our two-year anniversary. I decided to try and save myself from spiraling into a dark marijuana-enhanced paranoia the only way I knew how: by putting on Troop Beverly Hills and making myself a bowl of homemade nachos. Soon I was laughing at the hijinks of one Phyllis Nefler, chomping on some cheesy chips and promising myself to never get high during an Alejandro Jodorowsky movie again. Your girl is just a delicate flower. 🙁 🙁
Today on Bloodfeast, we're going to make ourselves a batch of these soul-rescuing nachos. Have these when you too are suffering from a weed-induced meltdown, let them be the antidote to just a shit-ass day or better yet, simply enjoy as a treat that celebrates YOU.*
*Oprah voice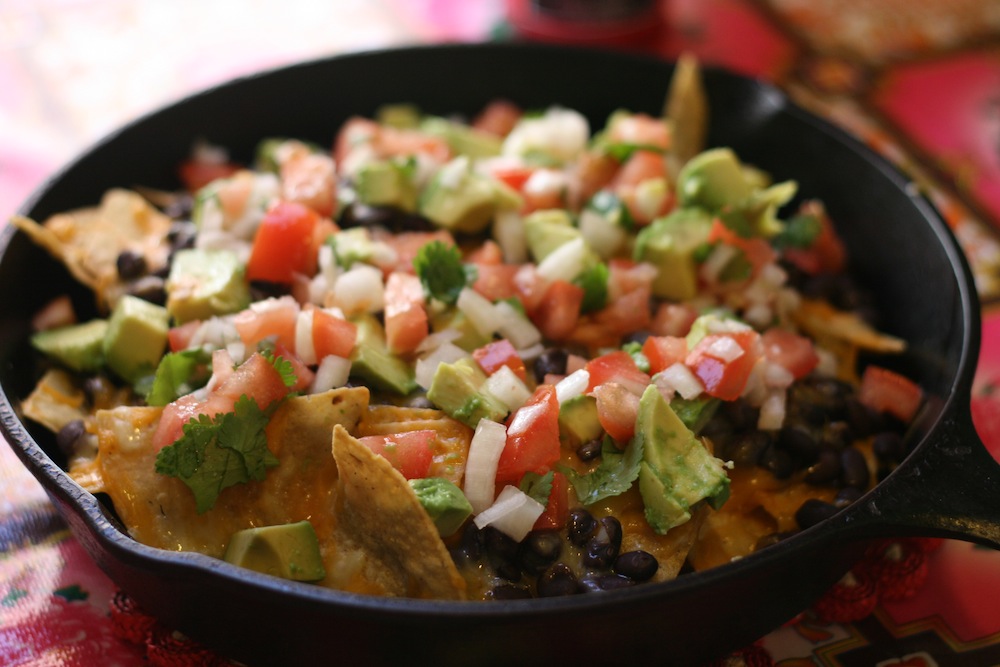 (Originally posted on The Hairpin.)
Holy Mountain of Nachos
2017-10-09 23:33:45
Serves 6
Ingredients
1 bag tortilla chips
1 can black beans rinsed and drained
1 tsp cumin
½ tsp chili powder
½ white onion chopped
1-2 tomatoes, diced
1 cup sharp cheddar cheese
1 cup Monterey jack
½ bunch of cilantro, chopped
Juice of 1 lime
1-2 avocados, diced
Salt
Sour cream (optional)
Instructions
Make the pico de gallo first by combining the onion, tomato, cilantro, lime juice, and salt to taste. Set aside.
Place beans in a bowl and season with cumin, chili powder and a pinch o' salt.
Preheat oven to 350°F and lightly grease your cast iron skillet with cooking spray.
Now it is time to build your NACHOS. Place a layer of tortilla chips on the cast iron skillet.
Thoroughly sprinkle cheese over chips, then add beans. Feel free to chant some sort of healing mantra as you sprinkle. Add another layer of chips, more cheese and the rest of the beans. I know you want to add more cheese on this beast so go for it. MAKE IT RAIN CHEESE, BOO BOO.
Repeat layers as necessary until you create a Holy Mountain of Nachos.
Stick that mutha in the oven for 7-10 minutes or until the cheese is melted. Take out of the oven and sprinkle the pico de gallo and diced avocados on top. Top with sour cream if so you desire. Blessings to you, my dear Blood Sisters.
BloodFeast https://thebloodfeast.com/