I know what you're thinking: HOW DARE YOU, MARIE! How dare you leave us in period-induced hunger for the past calendar year?! I thought we wuz brovaries! My sisters, I apologize from the bottom of my uterus. After I came back from eating through Europe last summer, I was promoted at my work, then I got married to my Canadian boo (whose vows to me were lyrics from my fave tune "Tenderoni," btw), and other wild, wild, wild life tings. But I've been thinking bout you, your appetites, and my beloved Bloodfeast.
There was also a pivotal moment last year that had exhausted me to the point where I needed a break. It involved Welch's grape soda. See, for years I wanted to recreate the iconic breakfast dish recited in one Christopher "Biggie Smalls" Wallace's 1994 hit, "Big Poppa." In it, the Notorious B.I.G. (rest in power) raps the makings of a perfect breakfast-at-any-time recipe:
So we can steam on the way to the telly, go fill my belly
A t-bone steak, cheese eggs and Welch's grape
Conversate for a few, 'cause in a few, we gon' do
What we came to do, ain't that right boo, true
Now, the ingredients for this royal feast are obvious, but not as easy to find as it'd seem, especially if you were living in a Welch's grape soda-scarce Los Angeles in 2016. I looked everywhere for the soda online and in real life. At one point during a visit from my boo, he went to THIRTEEN different liquor stores in search of the purple-hued Holy Grail. (This is probably when I knew I'd marry the guy.)
I begged Welch's Twitter for help. They responded with coupons. I asked my friends from all over the world to keep an eye out and some were successful — pals in Australia offered to ship the soda to me; my friend Gabby picked up a liter at her bodega — but the thought of shipping a liter of soda from the other side of the country, let alone an entirely different continent, was ridiculous. It was way too much money, and would be a total hassle to pack.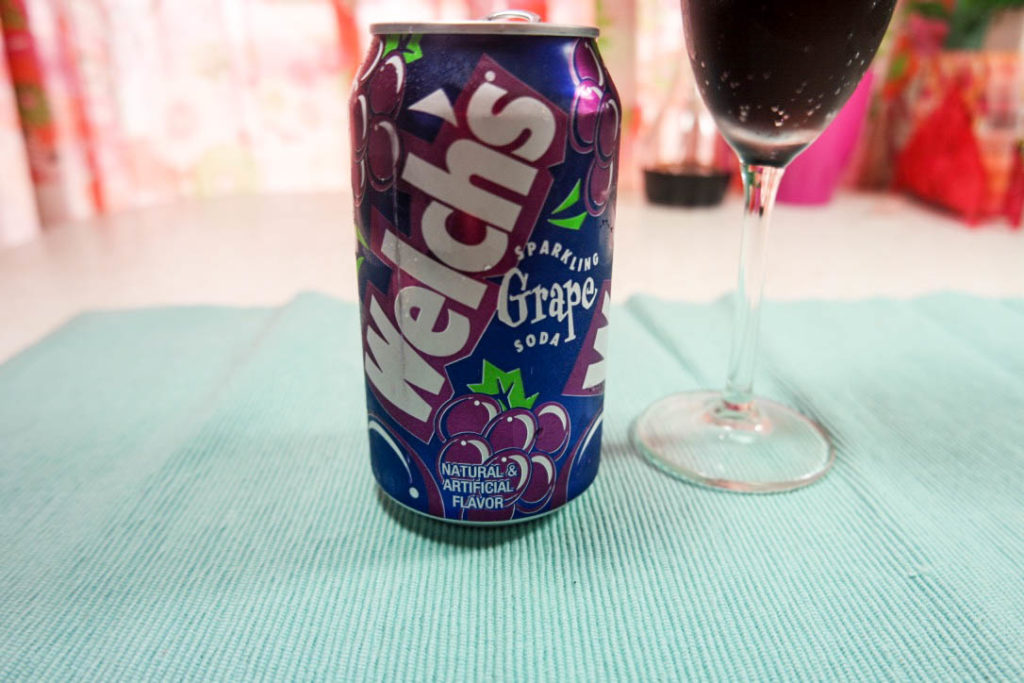 Friends tried to persuade me to use Welch's grape juice, or Grape Fanta, but I couldn't compromise my vision. If I were going to do Biggie right, this needed to be legit. After all, Lil Cease himself confirmed that it was indeed the soda, not the juice nor jelly, that Biggie was talking about in the song. A somewhat perfectionist with nothing but respect for my hip-hop president, I just couldn't bring myself to substitute with anything else. So, with a heavy heart I put my fantasy breakfast on pause. And with that as a catalyst, Bloodfeast had gone on an unintended hiatus.
Then, a strange thing happened. A few months ago, something told me to look on Amazon for funsies, as they say.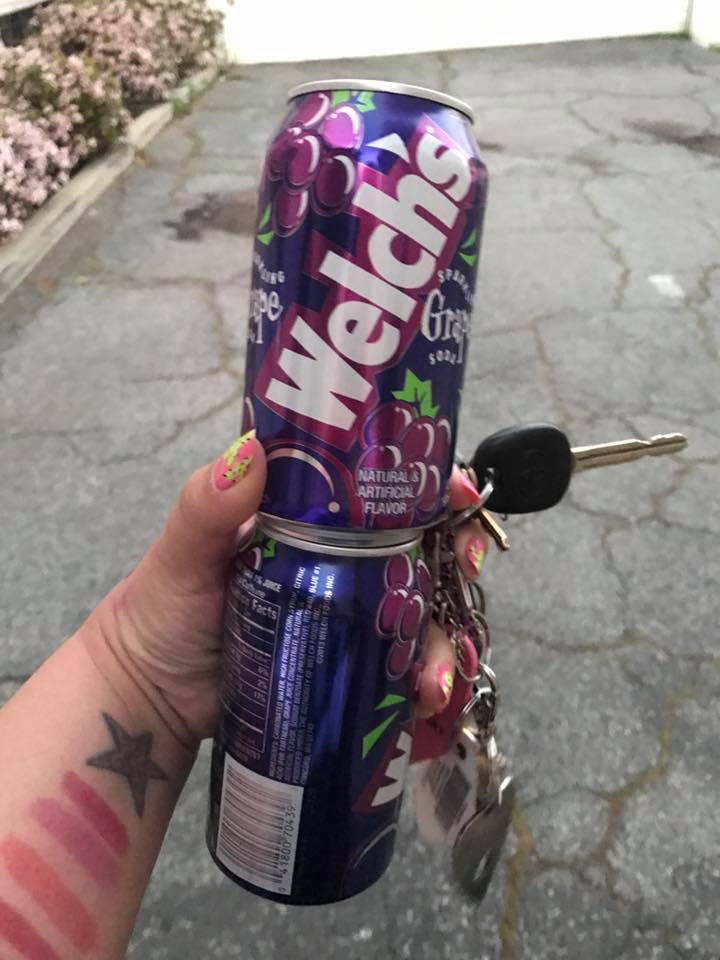 Lo and behold, Welch's grape soda was in stock, available to ship to California, AND via Prime. What in the name of Jonathan Taylor Thomas was going on here?!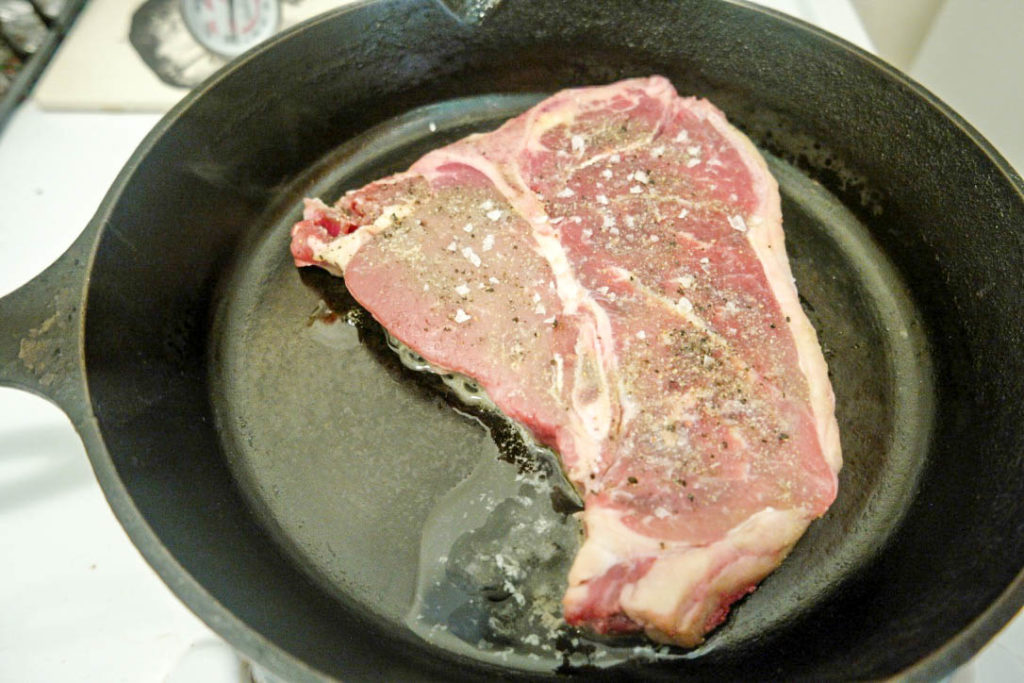 The soda gods heard my cries. I was finally able to make the steak and cheesy eggs, my boos!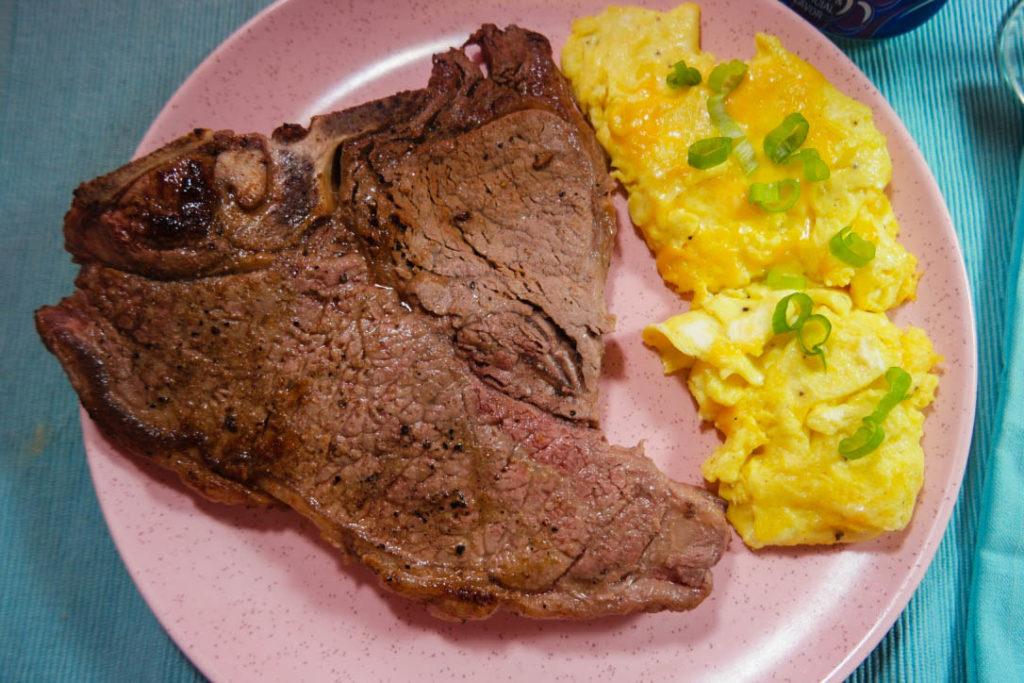 Love ya, Biggie.
Biggie Smalls Breakfast
2017-10-24 22:51:55
Ingredients
T-bone steak
3 large eggs
Butter
Diced green onions
Garlic salt, regular salt and pepper, to taste
1 can of Welch's grape soda
Instructions
Delicately press play on Notorious B.I.G.'s album, Ready to Die.
Bring the steak to room temperature.
Melt 2 tablespoons of butter in a cast iron skillet over medium heat.
Season both sides of steak, generously and erotically, with garlic salt and pepper.
Cook steak in skillet, on each side. About 3 minutes for medium rare, 4-4.5 minutes for medium. (I ended up cooking mine at medium, don't judge me.)
For the eggs
Beat eggs with milk in a bowl. Add salt and pepper.
Melt 1-2 tablespoons butter over medium heat in a nonstick skillet.
Lower heat and add eggs, stirring and flipping over with spatula.
Once eggs are almost fully cooked, sprinkle cheese on top.
Top off with green onions.
Crack open an ice cold Grape Welch's.
BloodFeast https://thebloodfeast.com/