There are very few things as comforting to me as my momma's cooking, especially when it comes to her chicken adobo, served on a big pile of rice. Maybe that's why I haven't tried any of the Pinoy restaurants here in LA yet; I'd rather go home and have it straight from Fannie's kitchen! (Though I am dying to try Ma'am Sir, Spoon & Pork, and LASA.)

For the most part, every Filipino's chicken adobo has the same ingredients – soy sauce, vinegar, bay leaf, peppercorn — but while other recipes might use palm, white, or even apple cider vinegar, my mom uses the red wine kind, mostly because "that's what she had." She usually makes chicken wings and drummettes, but for this recipe, I used thighs. Big ol' DADDY THIGHS. And I kept the skin on them because I wanted some of that crispy, broiler-browned action.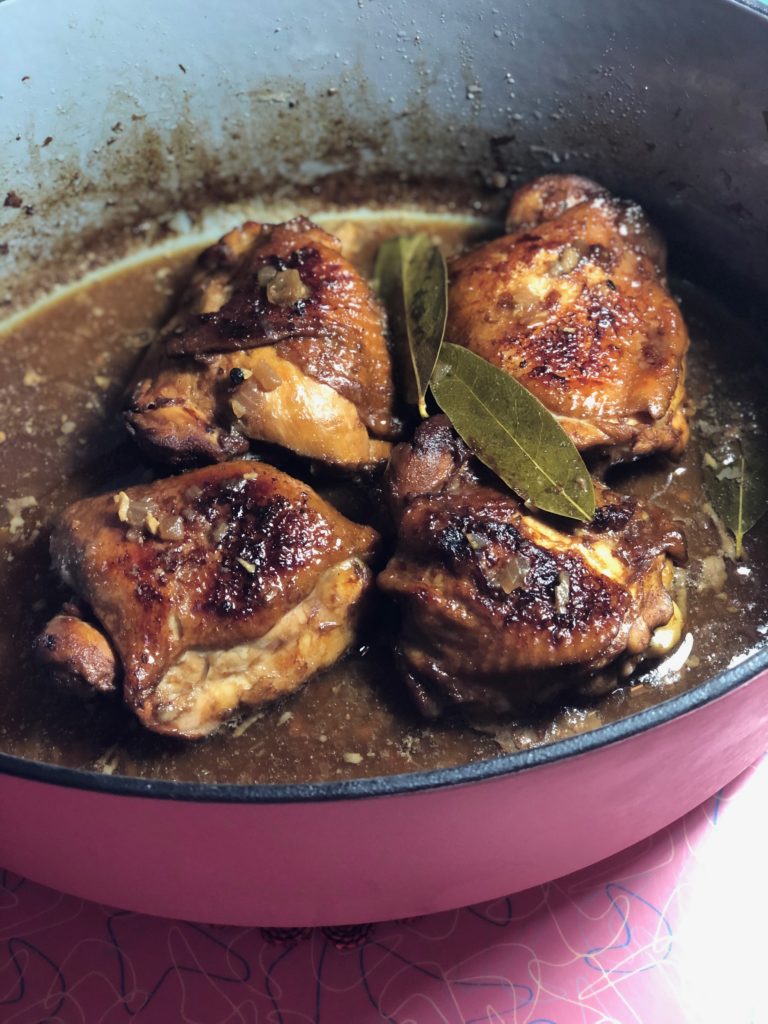 The trick is letting the chicken properly marinate. You'll want to make sure it soaks real good and sexy in that sauce…like Elizabeth Berkley and Kyle MacLachlan in the pool scene in Showgirls. (TOO FAR??) My mom prefers to soak the chicken overnight, but I let it marinate for about three hours and it was still masarap (delicious).

Because of the soy sauce content, your adobo should be salty enough without adding more. However, while you're cooking it, you'll also want to figure out how much sabaw or "soup" you want. You don't want to cook away too much of the liquid so you can pour the sabaw (the delicious broth) on top of your rice before you eat it. It's one of the best parts about eating adobo! No need to worry, you'll have the option of adding more water while you cook the chicken if you're a sabaw stan. Just make sure to taste-test. As Fannie says, "taste, taste, taste!"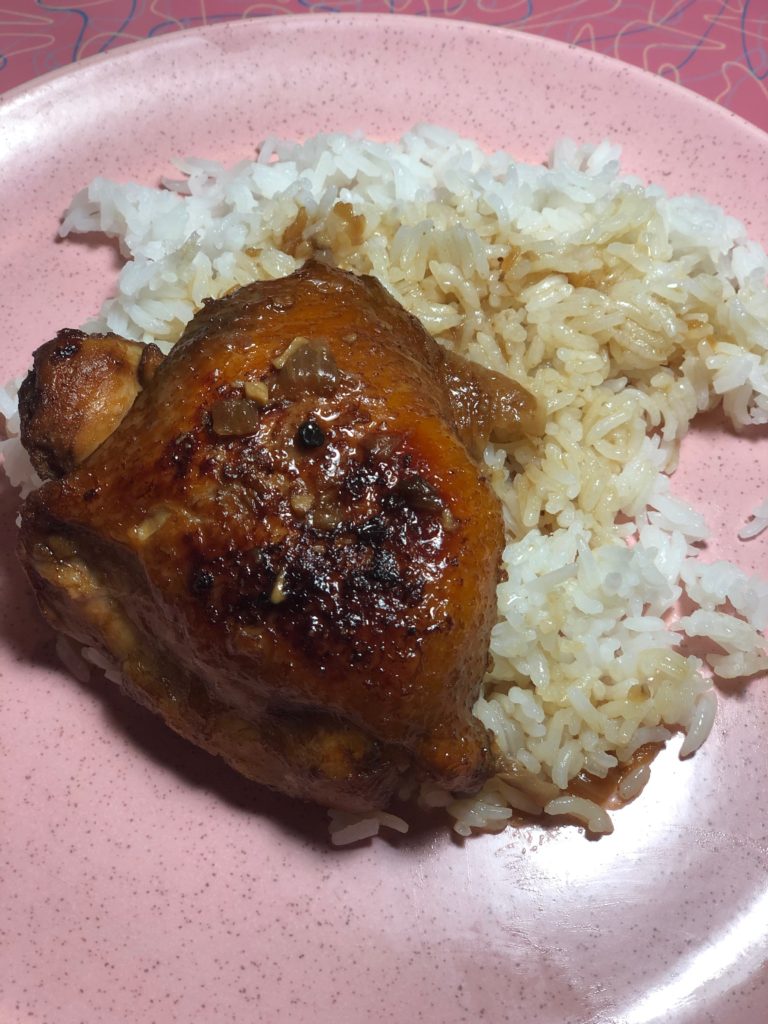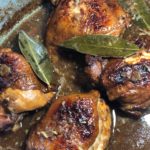 Print Recipe
My Mom's Filipino Chicken Adobo
How to make the classic Filipino chicken dish.
Ingredients
2

lbs

bone-in, skin-on thicken thighs

1/4

cup

soy sauce

1/2

cup

vinegar

red wine

1

tbsp

garlic

minced

1

tsp

peppercorn

4

bay leaf

1/2

large onion

thinly sliced
Instructions
Combine soy sauce, garlic, vinegar, onions, pepper, and bay leaves in a large bowl.

 Add chicken, making sure it is well submerged in that sauce.

Cover and refrigerate, letting it marinate for at least three hours, though an overnight stay is preferred. 

Transfer to pot, cover and cook on medium heat until it boils, then turn down to simmer, cooking until done.

Add more water for more broth (sabaw), if necessary. I usually start with a ½ cup of water.

Make sure to taste (obviously when chicken is done), only add a little bit of garlic salt if needed (for example, if you add too much water/sabaw and find the taste escaping). 

Once cooked transfer to sheet pan and hit under broiler for a few minutes, just to get a little bit of that sexy brown crisp. Then transfer back to pot or serving dish and drizzle the sabaw and onions all over. 

 

Serve with rice and enjoy.