Now, I love a taco, but my absolute favorite type includes potato and cheese inside of a crispy, crunchy shell. Whenever I go to a Mexican restaurant and see a potato taco on the menu, I must have it. It is my duty. Perhaps that is the Irish in me. (Sidebar, thanks to an Ancestry.com DNA test, I recently learned I was 10% Irish, much to my dismay. Not that I'm against being Irish, but all my life I thought my non-Filipino side was mostly Italian. I been living a lie, people! Is this why I have freckles and am obsessed with potatoes?!)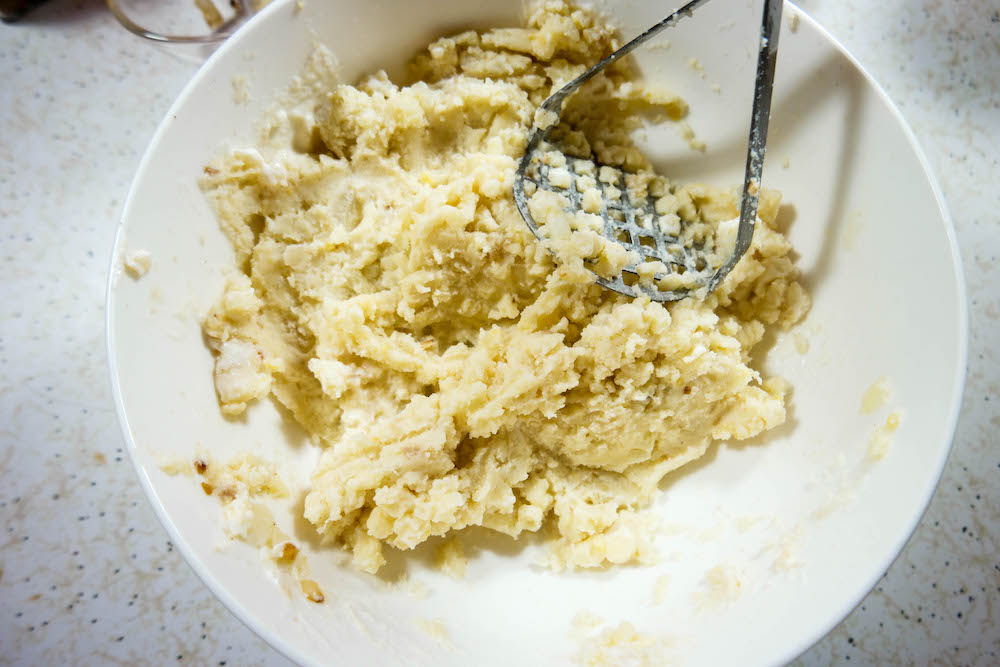 But I digress, back to the matter at hand. You can use any type of cheese for a potato taco, but I love nothing more than adding a slice of queso fresco to it. Queso fresco is a crumbly, mildly salty Mexican cheese that tastes amazing on everything from tacos to salads. However, I also like to nibble on it AS IS.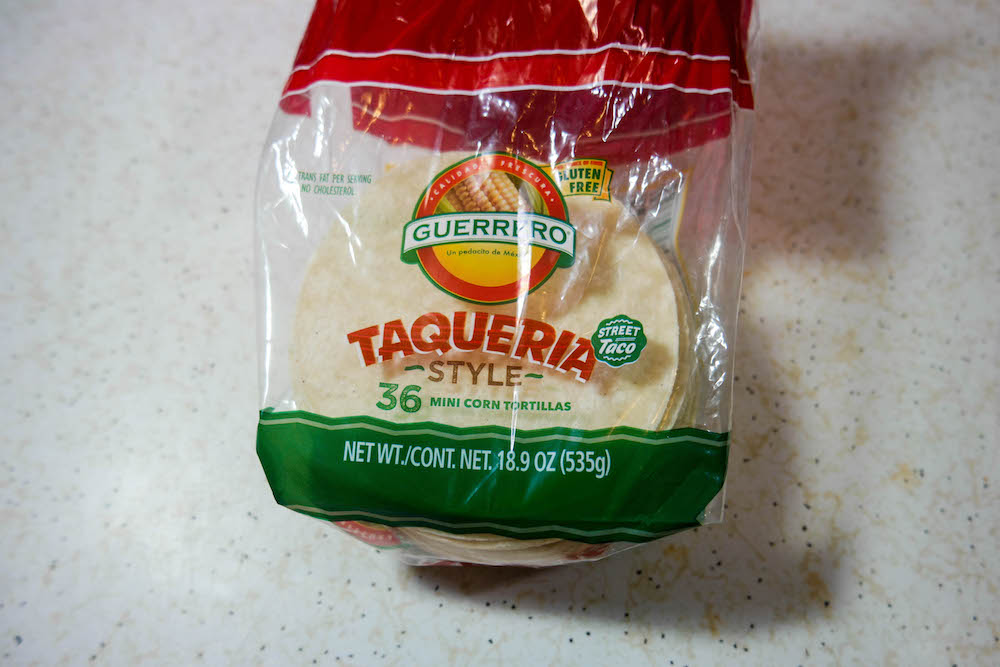 I always wanted to make potato tacos for my Bloodfeastin', but when I came across these tiny tortillas I knew this was the canvas on which to create them.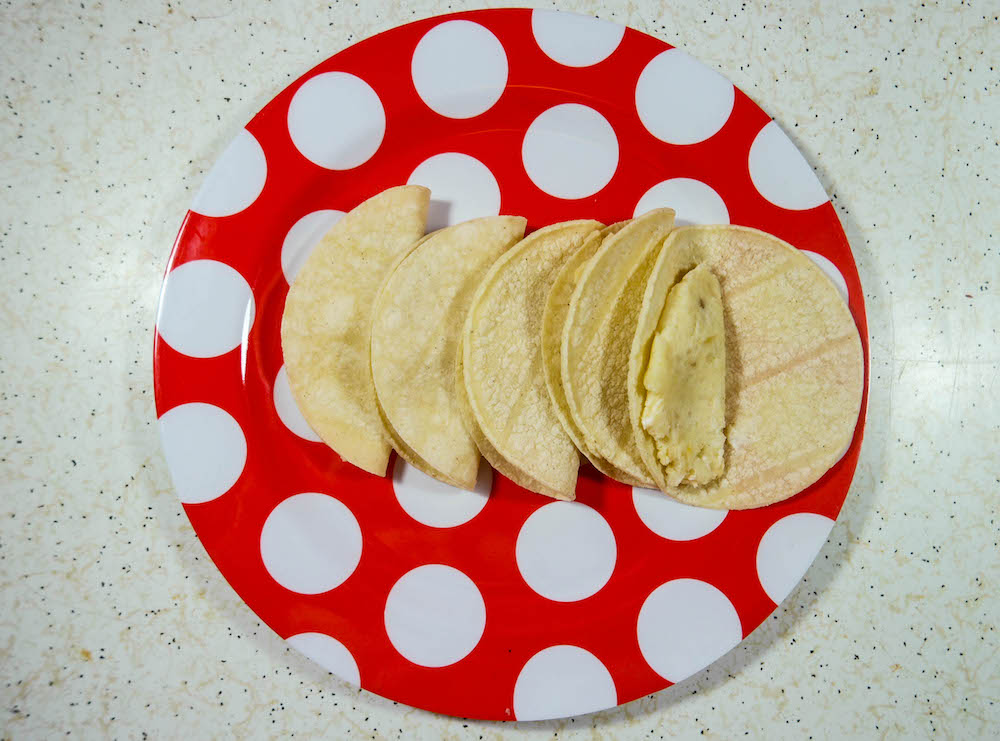 Who wouldn't love a mini version of their favorite food? Disclosure: I love miniatures, but that tiny food trend does make me nervous. It gives me uncanny valley vibes. If they ever reboot the Twilight Zone for the third time, they should include an episode about those tiny food videos. ::shudder::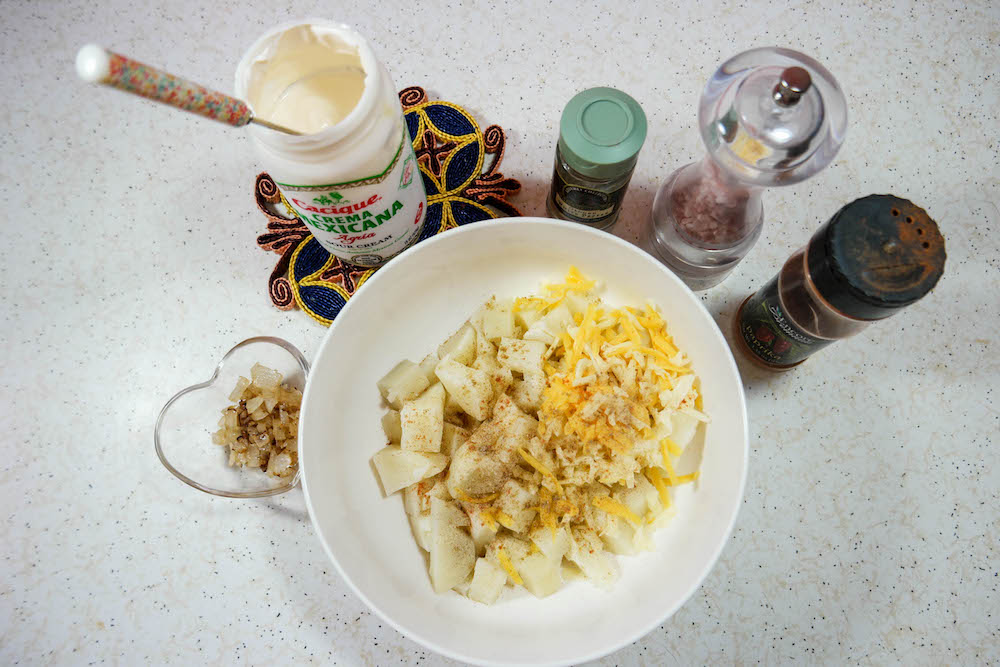 I can't help but feel slightly freaked out at the sight of a giant hand making a teeny, tiny Happy Meal. Where do they get that mini cheeseburger wrapper? How is there a tiny soda fountain lid? I know it's whimsical and I should feel charmed, but I'm just stressed. Is it only moi?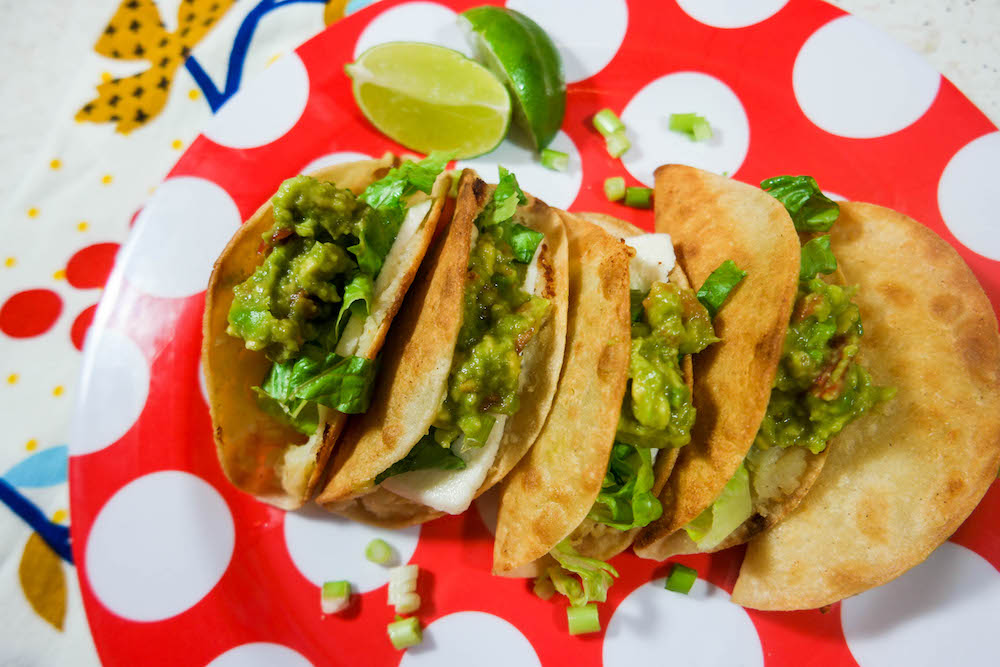 You can add any other ingredients to the 'tato taco, but I like to keep it simple and quickly whip up my go-to guacamole to top it off. This one is fast and easy (just like me) and is by no means thee recipe that I once brought to a casual guac-off competition between friends. (That one will be posted in the future, pinky promise.)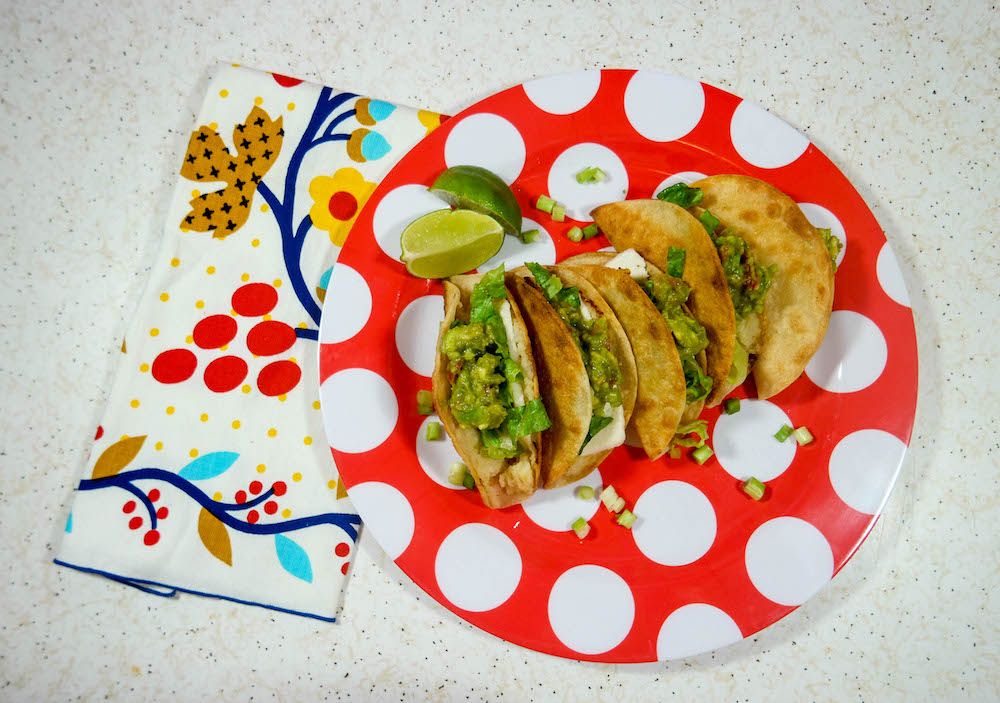 Lil 'Tato Tacos
2017-10-21 23:36:45
Ingredients
2 large Yukon Gold or Russet Potatoes, peeled and chopped
1 pack of mini corn tortillas
¼ cup diced white onion
¼ cup Mexican crema
1 tsp cumin
1 tsp paprika
1 tsp garlic powder or chopped fresh garlic
½ cup shredded jack and cheddar cheese mix
Queso Fresco cheese
Salt and pepper, to taste
Lime
Chopped green lettuce
Canola or other vegetable oil for frying
Optional guacamole
1 medium diced avocado, diced tomatoes.
Instructions
Cook potatoes in salted boiling water until tender. While those are cooking, saute and grill onions with a teeny bit of butter and salt.
Once potatoes are cooked, drain and let cool.
Add cumin, paprika, garlic, salt, pepper, jack and cheddar, and crema to potatoes.
Then, mash 'em like your life depended on it. GO HAM, BB.
Spread potato mixture in tortillas, then fold over in half.
Heat oil in pan and fry on each side (about 3-4 mins) until crispy and tan.
Stuff with queso fresco, lettuce, and guacamole if you're into that.
Squeeze over with lime and dig in.
For an easy, non-spicy guacamole
Mix avocado, tomatoes, and 1-2 tablespoons diced onion with salt, pepper, and lime juice (to taste). Mash until creamy.
BloodFeast https://thebloodfeast.com/