Welcome, welcome, my menstruating wizardesses. A few things first. I've heard some news that Pantone's most recent choice for "Color of the Year," marsala, resembles period blood. If that's the case, I'm hoping this trend continues in the future and we get "Maxi Pad White" and "Tampax Box Blue." Aside from that, I've been jotting down all of my fantasy tangibles on my Chrismukkah wishlist. I'd like one of those all-over print pizza onesies, but one made out of the finest cashmere. Do those exist? I just want pizza to keep me warm.
Speaking of beloved pizza, today I've got something truly special for us to chomp on. It's the kind of Bloodfeast dish for when you wake up on a lazy Sunday and want something delicious and quick because your bleeding vagina is like "B, can you PLEASE get over here and watch this Broad City marathon with me already?"
I present to you: The Breakfast Pizza Hack. I call it a "hack" because I'm not forcing you to make your own pizza dough from scratch or even use a pre-made one from Trader Joe's. All I'm asking you to do is grab that emergency frozen cheese pizza you keep in the freezer and "hack" it into something you might see on the menu of your favorite brunch location. Wait a second, I'm not the only one who keeps an "emergency cheese pizza" on hand at all times…am I?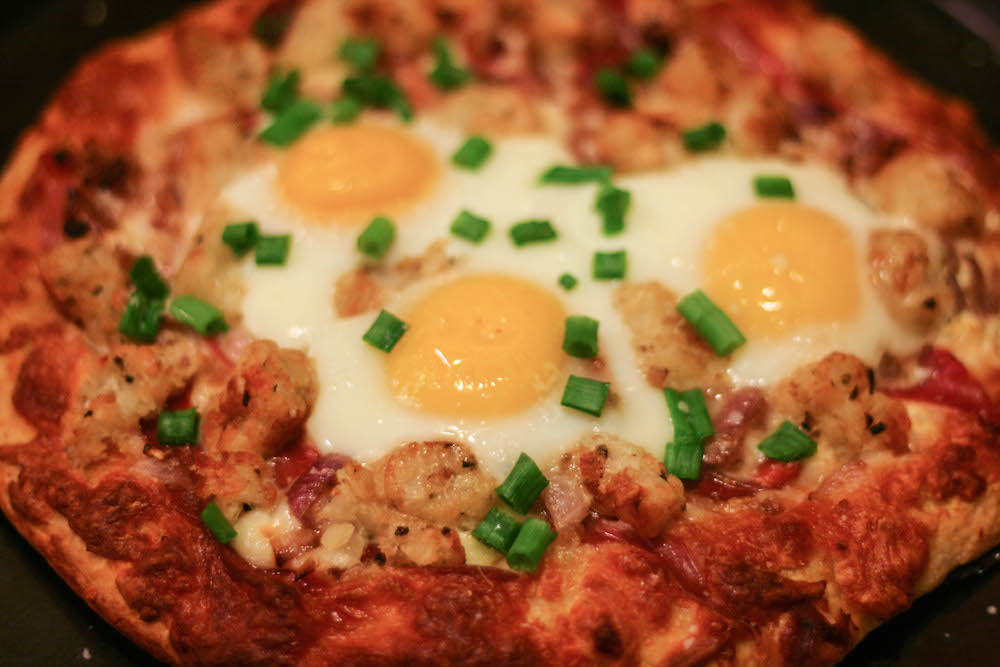 You'll also need breakfast-type ingredients like eggs and bacon, but then let yourself get as fancy and creative as you want with this. Do some soul-searching in your kitchen and you might find a forgotten bag of frozen hash browns and a pack of prosciutto hiding in your fridge.
Don't underestimate your leftovers game either. There's this episode of My So-Called Life where Angela says when her dad heats up leftovers for her it somehow tastes better than before. I feel this hard because my dad's a chef and the same thing happens everytime he reheats leftovers. On that note, I once did The Breakfast Pizza Hack with leftover duck fat fries and short rib, because I'm the bomb.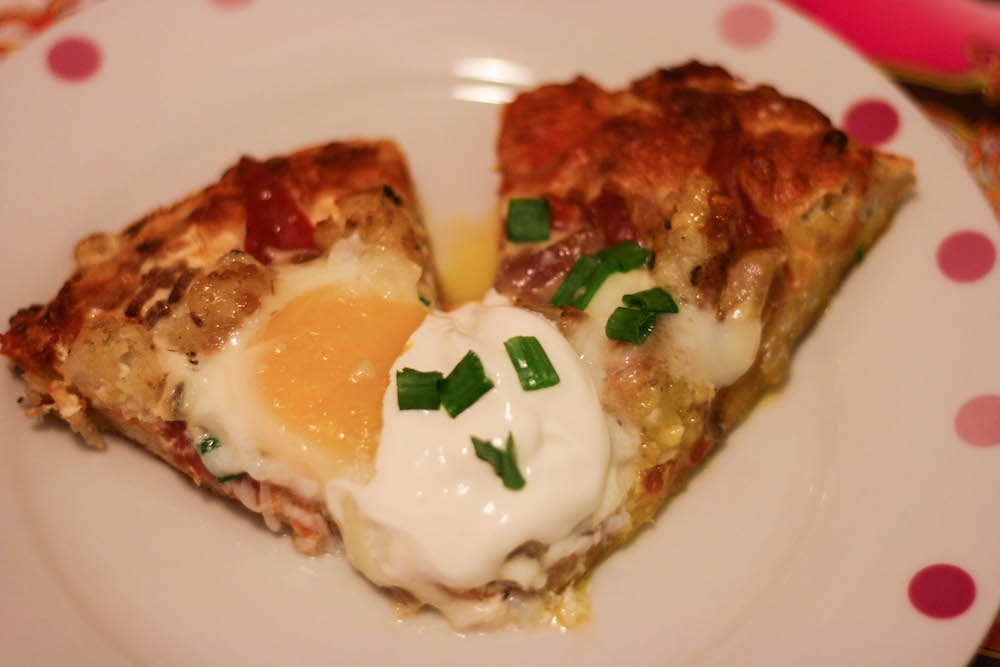 This is the perfect antidote to BRUNCHCRAVES without having to leave the house and waiting twenty minutes to get a table somewhere. Enjoy my sisters.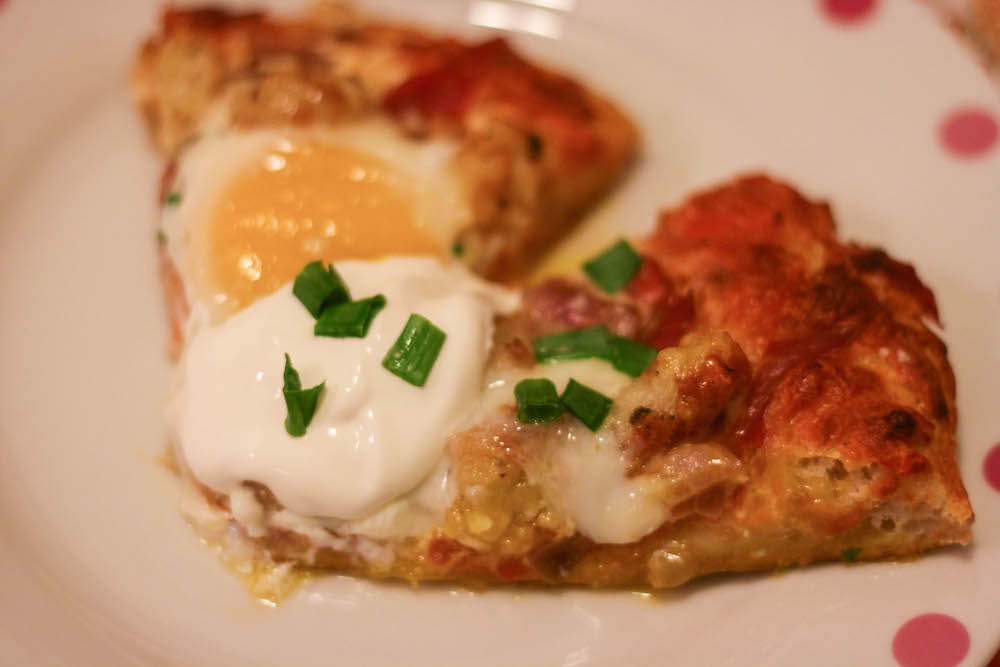 (Originally posted on The Hairpin.)
Breakfast Pizza Hack
2017-10-09 23:22:15
Serves 2
Ingredients
1 frozen cheese pizza (I used Amy's Cheese Pizza)
1 cup frozen tater tots (I used Alexia Potato Puffs)
Chopped green onions
Prosciutto
Parmesan cheese
3 eggs
Sour cream
Instructions
Preheat oven to temperature listed on pizza box. While that's heating up, cook tater tots in a skillet with olive oil.
Spread prosciutto, tots, and green onions on top of frozen pizza. Bake for 5 minutes. If you want a crispier crust like I always do, make sure to put the pizza directly on the rack.
Remove the pizza then crack your three eggs on top while making a wish for each one. Return to oven for another ten minutes. Oven temperatures can vary so keep a close eye on the eggs and your pie. You'll want to watch for the eggs to set so the yolk turns from clear to white.
When your third eye tells you that this majestic creation is complete, take it out and add some shaved parmesan on that sexy mutha. Let cool for a minute or two, slice it up and add a dollop of sour cream to your slice. I know you might be like "SOUR CREAM?! WHAT IN TARNATION?!" But you've got taters on there boo…so now it's like a breakfast-y baked potato pizza.
Finally, take off your pants and continue with your couch potato marathon. The end.
BloodFeast https://thebloodfeast.com/