Greetings, my Blood-shedding Sisters of the Red Moon. Today we are going to make a very special macaroni and cheese dish that will magically get rid of your menstrual cramps. Just kidding! It won't get rid of them, but it might make you feel better and a 'lil carb cozy while watching some Lifetime Original Movies—or LOMs, as I like to call them. Mother, May I Sleep With Danger?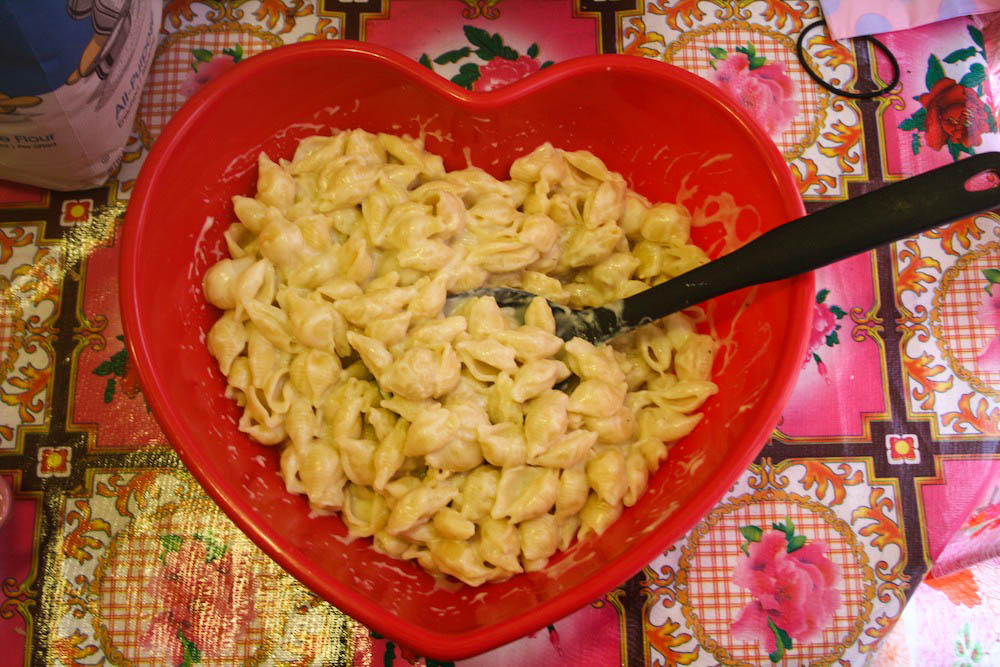 A mac and cheese connoisseur like yours truly has no doubt experienced some noteworthy varieties. There was the famous Nancy Reagan recipe that an ex-boyfriend's mom used to make an obscenely often amount. There's been the trendy truffle macs from bougie restaurants; the frozen Trader Joe's mac that I hacked by mixing in some out-of-control salsa campanha from a local Brazilian spot in my hood. Then of course, there's been my own ultra-cheesy experiments, like one dish that had homemade pesto and roasted brussel sprouts mixed in.
My latest cheese obsessions include Dubliner cheddar and Gruyère, so they had to make an appearance in this Bloodfeast macaroni. Now let's invoke the Paula Deen inside of all of us (sans racism) and get this carb party started!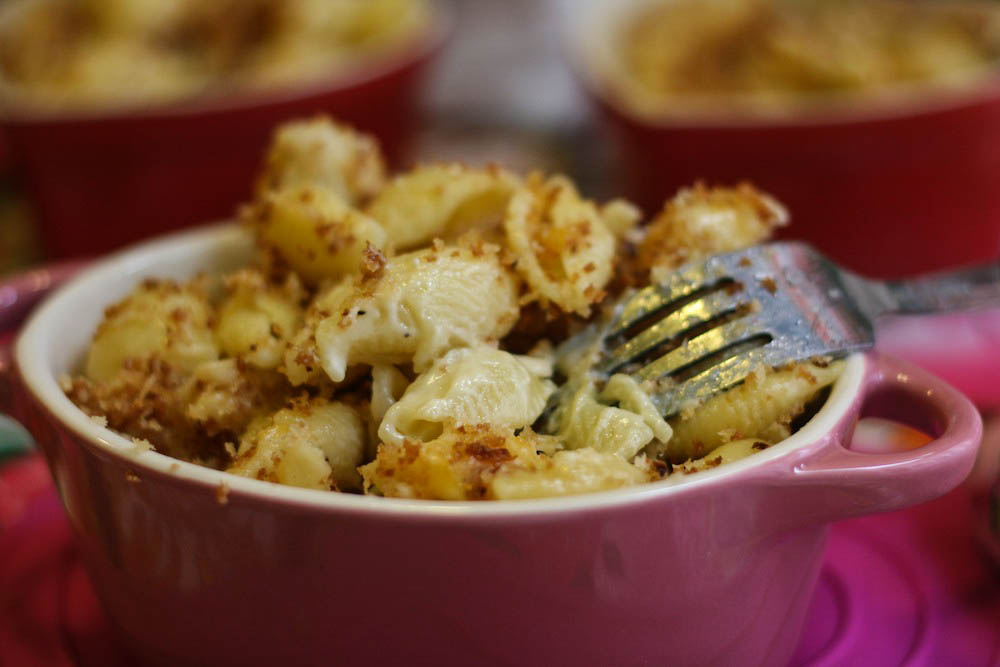 (Originally posted on The Hairpin.)
"My Uterus Is Listening to the Cramps" Mac and Cheese
2017-10-09 23:32:10
Serves 4
Ingredients
1 pound of pasta (I used Barilla large shells)
2 cups milk (whole or lowfat)
2 tablespoons flour
1 cup Gruyère
1 cup Dubliner cheddar
1 cup mild cheddar
sea salt
butter
3 oz mascarpone
1 tablespoon chopped garlic
1 cup of Panko crumbs
Instructions
Cook pasta according to package directions, then drain. Preheat your oven to 350 degrees.
Cheese sauce: In a medium-sized saucepan, warm one cup of milk over medium heat. Once steam begins to rise from the milk, add in your flour and the rest of the milk and whisk gently, but not sexily. Continue whisking until the milk begins to thicken and there are no lumps from the flour. Add in the mascarpone and whisk away some more.
Begin adding your cups of glorious cheese and stir until it's all melted and your sauce is C.R.E.A.M.Y. like the Prince song. Add salt to taste.
Once the sauce is to your liking, combine the pasta and cheese sauce in a large bowl. Mix thoroughly, making sure every pasta shell is coated evenly with delicious cheese.
For crunchy topping: In a small pan, melt butter over medium heat. Once the butter starts to sizzle, stir in the Panko crumbs and chopped garlic. Mix well so the butter coats the crumbs and garlic evenly, adding more butter if necessary. Cook on low until crumbs are nice and brown.
Take your pasta and cheese mixture and pour into a casserole dish (or several like I did) and add more shredded cheese on top. This is where you can go crazy with the queso depending on whether you want to be a cheesemonger (monster!?) on a level 5 or 11. There are NO rules during The Bloodfeast, my sisters.
Sprinkle your crunchy topping on top then cover with foil and bake for about fifteen minutes. Remove the covering and check if you need more cheese (you probably do.) Shit, do you want to add butter on that? Bacon? French fries? A never-sent letter to a former lover? Do what you must.
Bake uncovered until the top forms a golden crust, the inside is bubbly, and a cheese demon rises from the fires of hell below.
BloodFeast https://thebloodfeast.com/